---
Tarzana-Olympic Line 3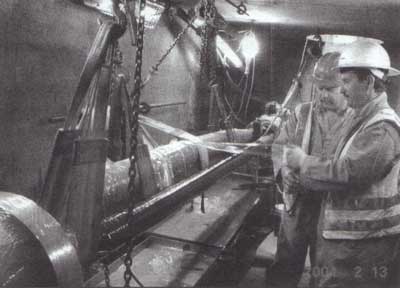 Recently, Local 18 Business Rep Barry Poole visited the crew that was splicing the Tarzana-Olympic Line 3. On that day, the crew consisted of Senior Cable Splicers Bill Santana (left) and Ed Wold.
This line operates at 230,000 volts. When in operation, it has between 220 and 350 pounds per square inch of oil pressure in the pipe that surrounds the three cables. The pipe surrounding the cable is 10¾ inches in diameter. The copper conductor is 2,500MCM in diameter. This cable has been in operation since 1968; this is the first time that it has been taken out of service since then.
As part of routine maintenance, the cables were X-rayed. It was discovered that the cables were sliding downhill; they had to be repaired immediately in order to maintain system integrity. It was decided that a restraining device would have to be incorporated into the repair splices in order to keep the cable from sliding downhill in the future.
Along with Brothers Santana and Wold, John Saathoff and Jessie Lopez kept operations running smoothly topside. Mark Zorick was the Foreman on this job. All members of the Underground Transmission Maintenance Section rotate working on these types of jobs, since they take some time to complete.
This particular job required draining the oil from the pipe surrounding the cables. Approximately 40,000 gallons of oil were drained from the pipe before it could be opened and splicing could begin. It takes about six miles of oil tape to splice each joint. In this joint, it will take over 10 miles of tape because of cable damage repairs. Humidity and other environmental factors must be controlled at all times during the splicing of the cable. During this visit, the humidity was at 5.3%.
It is worth noting that the only other cables that runs through this vault is the DC inter-tie ground return. This line is the ground return from Los Angeles to Celilo Oregon in the event of a fault on the 1,000,000 volt DC line.
There are only a handful of skilled workers in the world today who can perform this kind of job. To all members of the Underground Transmission Section—great work, and keep it up!