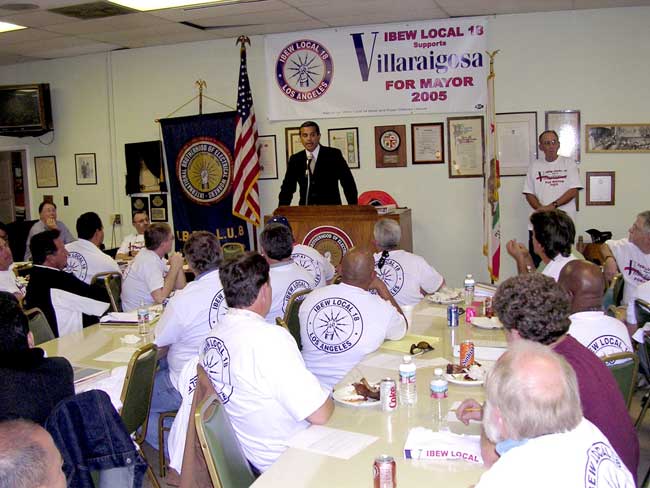 Business Manager's Report
It's simply a matter of who is the better man
Antonio Villaraigosa for Mayor on May 17!
By Brian D'Arcy, Business Manager, Local 18
Let me be right upfront: organized labor, as represented by Brother Miguel Contreras and the Los Angeles County Federation of Labor, formally endorsed incumbent Mayor James Hahn in the recent primary, and in the upcoming runoff on May 17.
Further, in our own February Surge, we acknowledged that Mayor Hahn has generally been supportive of working people and families, and that he has named a number of union officials to various important City boards and commissions.
That said, challenger Antonio Villaraigosa, 14 th District City Councilman and a proven, strong supporter of working men and women and the issues that are important to us, is the better man for mayor. He is not simply pro-union, he is from the union movement, and he has earned our support in this runoff.
I urge every IBEW Local 18 brother and sister, along with our families, friends and neighbors, to turn out and vote for Brother Antonio Villaraigosa for Mayor on Tuesday, May 17.
Why Villaraigosa?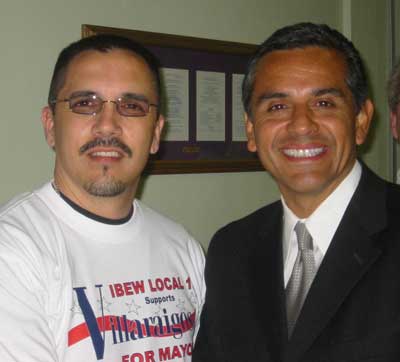 There are a number of reasons why Councilman Villaraigosa deserves our support, and why he would be a better mayor for Los Angeles—and a better leader with respect to the issues that we care about and the future of the trade-union movement in our region.
First , Brother Villaraigosa has been in the forefront of the local and regional labor movement for almost all of his professional life. As noted, he is from labor, not simply pro-labor (although that certainly is something we insist on in the people we support). He was an organizer for the teachers' union (UTLA), and an organizer and president of a local government-employees union. He understands at a gut level our goals, agenda and demands, and what are the vital issues for working people and families.
Second , Brother Villaraigosa has continually and steadfastly stood with organized labor when he served in the State Assembly, both as a progressive member and as Speaker. He shepherded our bills through the legislature and saw that they were enacted into law. His door was always open to working people and the union officials that represent them. He fought the "good fight" with us, rounding up badly needed votes and quashing attempts to gut legislation that was important to our careers and families.
Third , consider the broad and impressive range of support that Councilman Villaraigosa has garnered in his bid for mayor: progressive and pro-union U.S. Congressmen Howard Berman and Henry Waxman; State Senator Hilda Solis; Assembly Speaker (and former political director of the County Fed) Fabian Nunez; Assemblymembers Karen Bass and Jackie Goldberg; Los Angeles County Supervisor Yvonne Burke, and Los Angeles City Councilman Martin Ludlow. These good elected officials have consistently voted with labor, advanced unionism and stood firmly for the agenda we care about. Furthermore, Local 18 has always supported these people in the past, and we continue to do so! So if you judge a candidate by his supporters, you see why we endorse Brother Villaraigosa.
Fourth , while the incumbent mayor has supported union-built construction, appointed union officials to commissions, and has helped in a number of other issues and campaigns important to organized labor, it is Brother Villaraigosa who has been one of us for his whole working life. While other politicians support us intellectually, he has been down and dirty in the trenches with us. He has helped the County Fed gain strength and then use it on behalf of pro-union candidates and in the fight for both organizational rights and a progressive agenda that includes more jobs, better health care and education, improved mass transit, racial and ethnic equality, social justice and economic parity.
Simply put, it is a choice between someone who is all right, and someone who is very special. It is a choice that is pretty easy for this Union to make: we support Los Angeles City Councilman, Brother Antonio Villaraigosa for Mayor on May 17. Please join us in doing whatever you can to elect this strong, loyal friend of organized labor and the working people and families it represents.
In unity,

BRIAN D'ARCY, Business Manager